Behind the Clouds (2006-2007)
Directed by: George Dimitropoulos
Written by: Olga Bacopoulou
Starring: Takis Vogopoulos, Georgia Theodorakopoulou, Katerina Nikolaou, Imelda Makris, Yannis Theodoridis
Summary:
A young man, in psychological shock, wanders aimlessly through the streets of Athens. He is persecuted by guilt and a mysterious female presence. When he returns home, the memory of the murder he had to commit will lead to another tragic decision. But will this be the end or just a new beginning?
Entries:
Drama Film Festival, Film Festival of Patras, Vangelis Kotronis Fantasy Film Festival.
Awards:
Film Festival of Patras: First Award for supporting actor Takis Vogopoulos and Fantasy Festival Audience Award.
Watch the film Behind the Clouds at Big Bang
Behind the Clouds – Making of:
See also: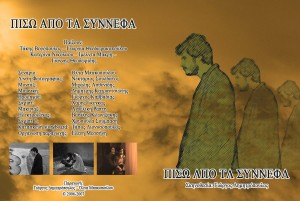 Photo album – Behind the Clouds